2014 FALL MINI SESSIONS  |  CHILDREN & FAMILIES  | PASADENA & SAN DIMAS
I'm thrilled to offer Fall Mini-Sessions this year!  I've chosen phenomenal locations in San Dimas and Pasadena for absolutely gorgeous mini-session photos.
I'm so excited to offer 3 collections at special rates, PLUS an additional 10% discount for clients who book before 09/07/2014!  See details and booking information below.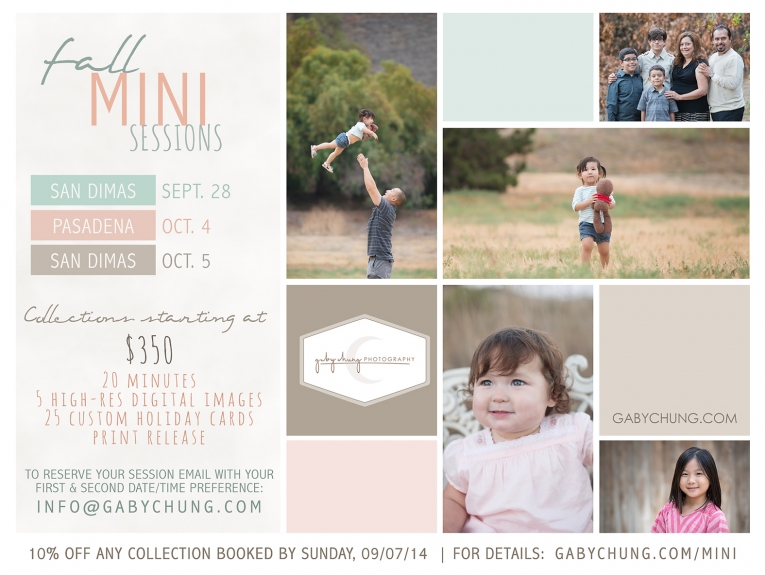 These short and sweet sessions are ideal for:
Children
Families
Maternity
Couples
Celebrating Milestones (losing a first tooth, starting school, birthdays, etc.)
Fur-Babies
And more!
Mini-sessions are perfect for documenting all the little moments that you want to remember forever.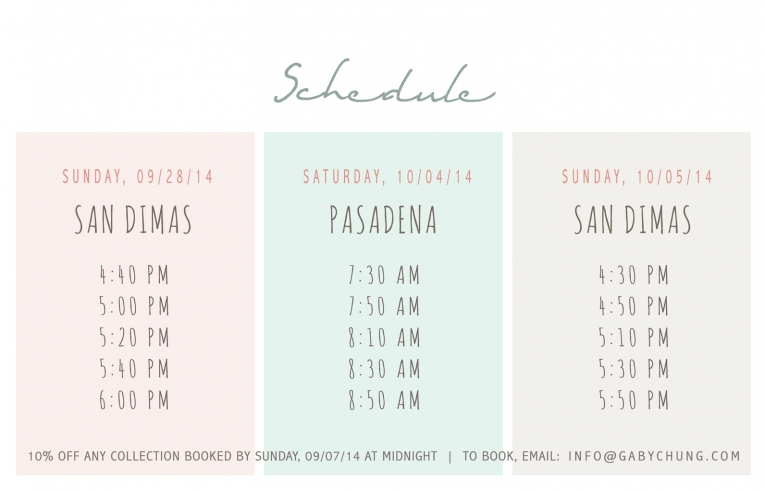 SESSION DETAILS
Sessions will last up to 20 minutes*
*Please be punctual.  Mini-sessions are scheduled back-to-back.  For this reason, late sessions will not be extended or rescheduled for any reason.
Up to 4 people per session (+$25 per additional person).  Immediate family only.
Clients will receive a pre-session consultation via email or phone, a 20 minute session, and an in-person or online viewing and ordering appointment (based on client's location) where client will be presented with a minimum of 10 final images. 
In the case of rain, session will be rescheduled to the following dates (same times and locations):  
9/28 > 10/18
10/4 > 10/18
10/5 > 10/19
Collection fees are non-refundable.  If you need to reschedule your session and notify GCP at least 24 hours before your session, you may book the next available session from the Schedule above.  If no sessions are available, your collection fee will become a credit toward a future Children & Family or Newborn portrait session, to be used within 1 year from the original mini session date. Prices and products are subject to change.
All Gaby Chung Photography policies apply.
**All services and products are subject to CA sales tax.
THE PROCESS:
Book a mini-session with GCP – YAY!
2-3 weeks before session: Consultation via phone or email
Session!
2-3 weeks after session: Viewing and Ordering Appointment & customization of holiday cards
2-4 weeks after Viewing Appointment: Product delivery
BOOK TODAY!
SEND AN EMAIL TO INFO@GABYCHUNG.COM WITH YOUR TOP TWO DATE/TIME PREFERENCES AND DESIRED COLLECTION.  AN INVOICE AND ELECTRONIC AGREEMENT WILL BE FORWARDED TO YOU TO COMPLETE.  **COLLECTION FEE MUST BE PAID IN FULL AND AGREEMENT MUST BE COMPLETED TO RESERVE A SESSION.
---
MINI SESSION GIVEAWAY
Enter this mini session giveaway and if you win, your collection fee will be refunded  (Up to $350)!